E-commerce & online shop design and development
I design and develop fast and secure online shops that make customers want to buy from you.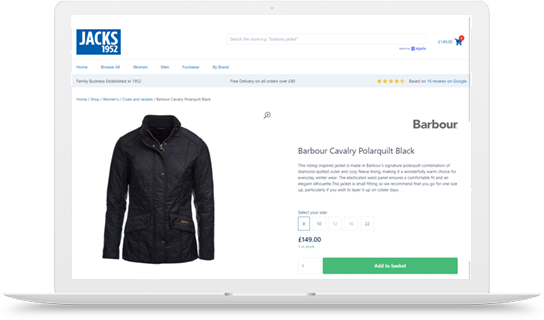 WooCommerce Specialist
I build my online shops in WooCommerce – 37% of all online shops are run on it. One of the main reasons for this leading market share is because it's easy to edit and manage orders.
Product Imports from Spreadsheet
If you currently have your product inventory in a spreadsheet, I can use that file to quickly import your products into your new online shop. This saves time and minimises the chance of error.
Search & Filter
You have to make it easy for users to find the item they want. One way is to create clear and descriptive categories and menus.
For more accurate product filtering I can create a search function and checkbox filters to show the products your customers want.
PayPal & Stripe Integration
Paypal is the leading online payment gateway and is included as standard with online shops that I develop.
You may also want to consider using Stripe, because it allows you to keep users on your site to make payment.
Secure Code
I will usually use WooCommerce to build your shop and the platform is audited by Sucuri, one of the leading global online security companies. As a result you can be sure your shop and customers details are secure.
Free Delivery
Offering free delivery can convince customers to stay and make a purchase. You can offer free delivery for every order or have a minimum qualifying order value.
Stock Management
Keeping track of your stock levels via your website can make sure you don't ever go out of stock. Your online shop will notify you via email when the stock of a product is running low.
Tax Calculations
Your shop's admin panel allows you to generate tax reports by date range or VAT rate. When the products are created you can assign them with their own specific VAT rate to ensure accurate book keeping.
Delivery Calculations
Basing your delivery price on the properties of the order is known as "table rate shipping". Commonly the price will be calculated by the weight, volume or quantity of products in the basket.
Reviews
A great way to convince potential customers to purchase your products is to have an audited star rated reviews section from verified customers.
Coupons
Using coupons is a good way to marketing your business, coupons with unique identifiers allow you to track which marketing streams are working the best.
I can teach you how you can create your own coupons from using the shop's admin panel.
Downloadable Products
It doesn't have to be a physical product that you are selling. If you have a digital product like a PDF download , your site will be able to sell physical and or digital products.
2. Advanced Ecommerce Features
Multiple Currencies
Do you have customers in a target market that is not in the UK? You might want to consider offering your products in multiple currencies.
You can get users to manually select their own currency or detect their location and serve an assumed currency.
User Accounts
Allowing users to create their own account makes it easier for repeat orders for regular customers.
You can store their addresses on your site to save them having to fill in forms.
When you are storing people's data you need to comply with GDPR. Your site will enable you to erase or export user data upon request for compliance with the law.
Payment Gateways
You may have a preference to use an existing merchant for card payment processing such as Barclays ePDQ or WorldPay.
Because of its popularity, usually WooCommerce will have a "plugin" for your merchant, which will save you money on custom development work.
Personalised Products
Certain types of products will have optional personalisation – such as t-shirts or promotional merchandise.
You can enable customers to upload artwork or a photo, or specify an engraving or inscription for the product and add the associated costs to the total.
LMS Integration
If you need e-commerce for a training company then I can integrate your learning management system into your website. This will provide restricted access to courses that students have paid for and possess the required qualifications.
Store Locators
If you have a number of locations where you have physical shops / stores, I can allow your users to find their closest shop using a postcode or town search and show the nearest locations on a Google Map.
Custom Delivery Methods
In certain circumstances working out delivery costs can be a more complicated than flat or table rate. In these cases I can write a custom delivery script to calculate the price taking all the factors into consideration.
Royal Mail
The Royal Mail has its own delivery cost calculations which I can set up on your site to provide accurate costs and return tracking codes directly to clients email addresses.
EPOS Integrations
If you have a physical store where products are being sold, it is important that the stock levels are being synced to the website to provide accurate availability.
Depending on your point of sale provider it is usually possible to sync the website with a datafeed from your in-store stock management system.
Dropship Integration
Do you run or want to run your online shop using suppliers that deliver your products on your behalf? I can develop your website to automatically send your paid orders to the supplier for dispatch.
Discounts
If you want to create a promotion on a certain brand, category or a custom selection of products – it can all be done from the admin panel of your site. You can even set a date range so it automatically starts and ends.
Subscriptions
Offering a subscription service will allow your customers' orders to reoccur at a certain time interval. Subscriptions can also be used as a for paid member sites.